How to Install Windows 7 Step by Step
Install Windows 7 on a Computer without an Operating System - The simplest setup scenario of all is installing Windows 7 in a newly hard drive or a separate partition on a computer that does not currently have any operating system (Windows XP, Windows Vista, Linux or Windows 7) or previous version of Windows installed.
With a clean installation of Windows 7, the Setup program installs a new copy of Windows 7 on the computer, and erases all your files, programs, and applications or user settings. Be sure to back up your any files on the partition before performing Windows 7 installation.
We recommend you to copying your documents, email, and other data such as all the installation files for the applications and your system hardware drivers to an external hard drive, USB key, recordable disc, network share, or other location.
Before you install Windows 7 on you computer, you should make sure that your system meets the minimum hardware requirements of the Windows 7 edition that you plan to us. Read the Windows 7 Specifications here.
To install windows 7 you'll need to start, or boot your PC using Windows 7 disc or USB key. Click here to find out how to install Windows 7 from USB flash drive.
Follows these steps to install windows 7 on a new computer without an operating system:
Step 1. Turn on your computer, insert the Windows 7 installation DVD in your computer's optical drive or USB flash drive, and then shutdown your computer.
Step 2. Restart your computer, after the BIOS screen flashes by, press any key when prompted "Press any key to boot from CD or DVD...", as shown in below screenshot.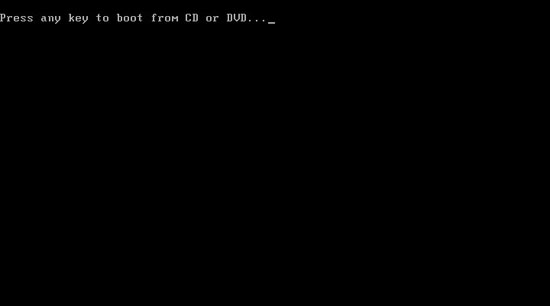 If your system does not boot from the DVD or USB flash drive, and you're not asked to press any key, you may need to change some system settings. To learn how to do this, see how to fix windows 7 installation problems.
Step 3. After loading Windows 7 installation files, the Install Windows screen appears, here you can enter the language, time and currency formats. and then click Next button.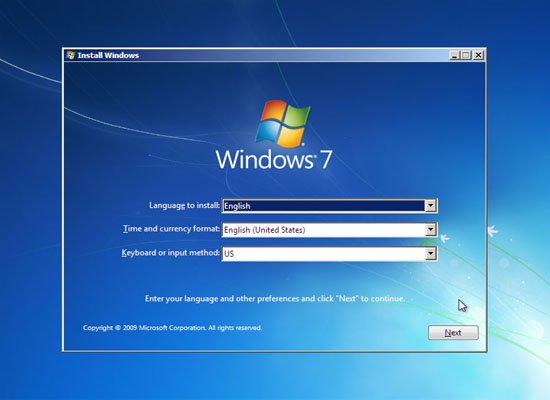 Step 4. To continue with Windows 7 Interactive Setup, click Install now.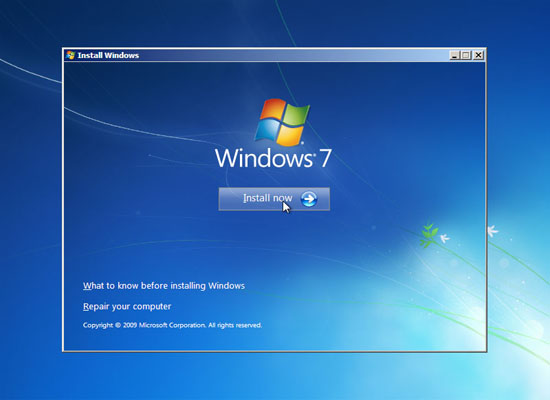 Step 5. On the next screen please read the license terms page appears, you must agree to the End User License Agreement (EULA). If you accept the license terms, click I accept the license terms check box, and then click Next button.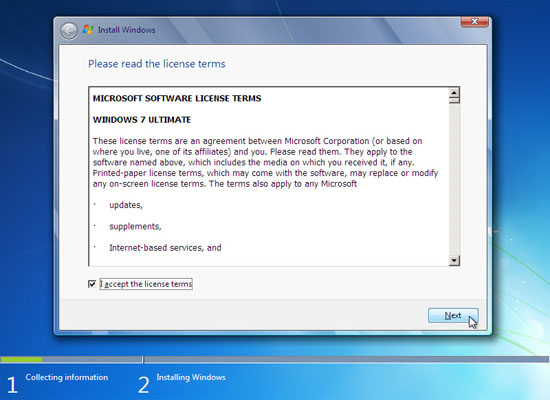 Step 6. In the which type of installation do you want? window, select Custom (advanced) as the install type. If you booted from the Windows 7 disc or USB Flash drive, the Upgrade option does not work, even though it appears to be available (if you try to choose it, you will get an error message).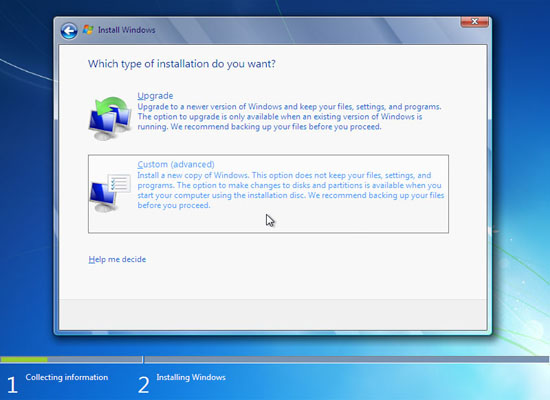 Step 7. In the where do you want to install Windows? window, choose the disk, or partition, to which you want to install Windows 7 on, and then click Next button. Here, I am using a freshly formatted disk with no existing partitions and that I want to use all unallocated space as my system drive.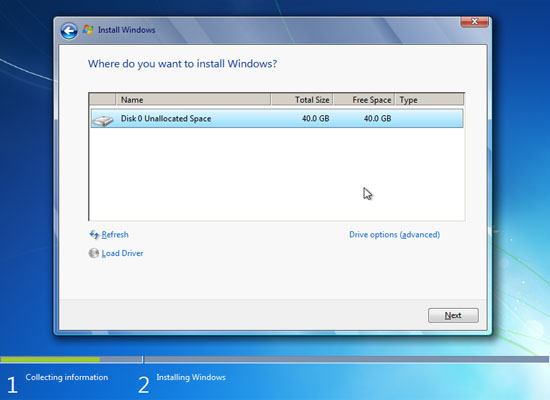 Step 8. After you have selected the disk or partition where you want to install Windows 7, the setup will start copying various installation files, expand the Windows 7 image file from the DVD to the hard drive, install Windows 7 and complete the installation by configuring your hardware devices.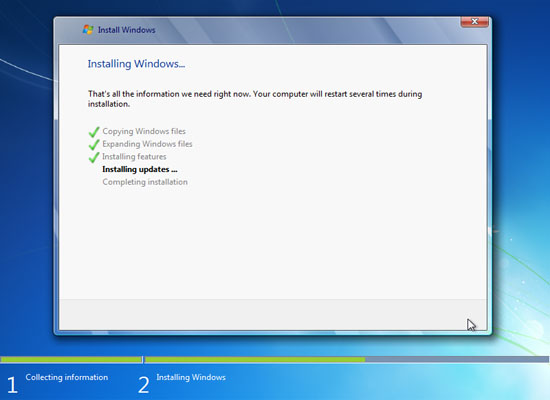 This process requires several automatic restart. When the Windows 7 installation finishes, the windows 7 operating system will be loaded.
Step 9. After reboot, You can complete the second, and final, interactive phase of installation, which include naming your computer and setting up an initial user account.
Windows 7 Installation Related Articles
Click here to submit any Windows 7 installation problems
Return to Top