Windows 7 Starter Upgrade
Upgrade Windows 7 Starter to Windows 7 Home Premium Edition
Windows 7 Starter Upgrade Help, Support, Ideas, Tips,
Article, Experiences, Troubleshooting and Errors.
Do you have a notebook or any other PC loaded with Windows Starter edition and you might be wondering if you are missing out on some of the features offered in other editions of Windows 7? Are you planning to upgrade Windows 7 starter edition on your Netbook? The Good News is that the most netbooks can run other editions of Windows 7 just fine...
Recently I bought a netbook for my wife which was running Windows 7 Starter edition and after using it for some days my wife told me that she wants to upgrade Windows 7 Starter on her netbook to other edition of Windows 7. And I did the Windows 7 Starter Upgrade to Windows 7 Home Premium in just fifteen minutes.
Do you know that you can upgrade to a more advanced edition of Windows 7 "say from Windows 7 Starter to Ultimate" in as little as ten minutes, no disks, no delays and right from your Computer? Yes, you read it correct! Those days are gone when you've to visit local computer store to buy an Operating System software to install or upgrade on your PC.
In Windows 7 you can use Windows Anytime Upgrade to upgrade your copy of Windows 7 in as few as ten minutes and you can keep your files, programs and settings intact.
Let's go and start Windows 7 Starter Upgrade to Home Premium edition by using Windows Anytime Upgrade.
Step 1. Click on Start button in the lower-left corner of your screen. Or, press the Windows logo key on your keyboard and then type Windows Anytime Upgrade in the search box. As you type, the Windows Anytime Upgrade appears above the search box in the left pane of the Start menu.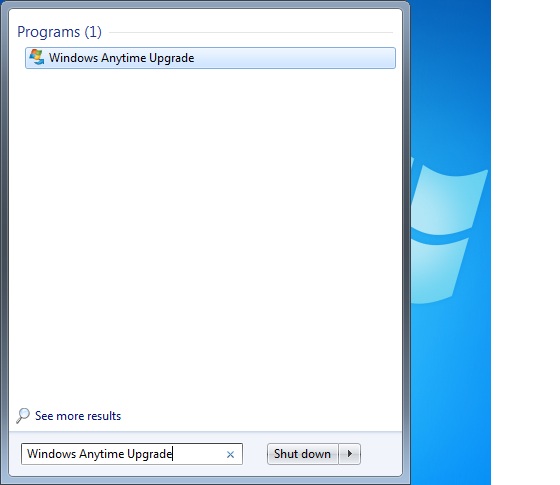 Step 2. Click on Windows Anytime Upgrade to open it. If you didn't buy edition of Windows 7 then click on the first option "Go online to choose the edition of Windows 7 that's best for you."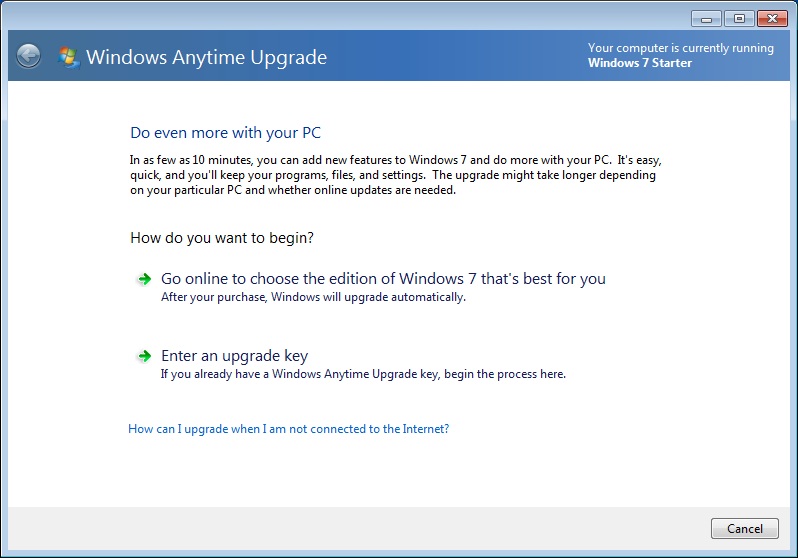 Step 3. Here I am clicking on "Enter an upgrade key" option to enter Windows 7 Home Premium product key.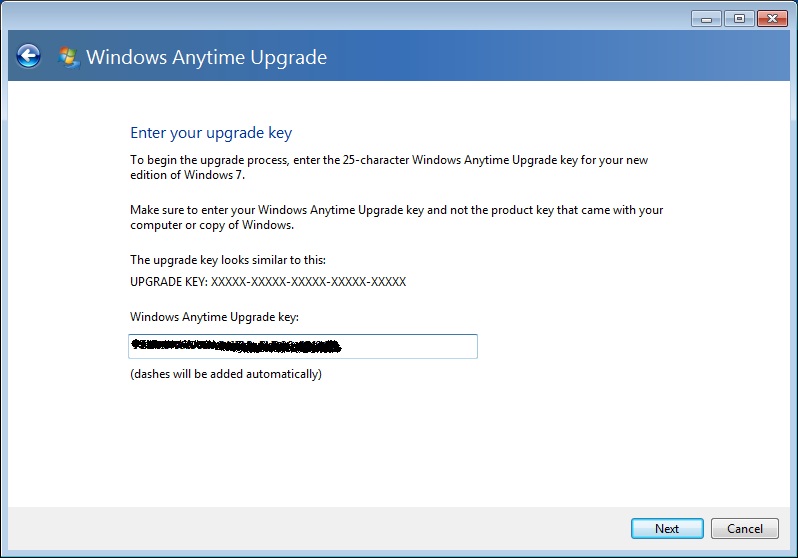 Step 4. After you type in your Windows Anytime Upgrade key click on Next button. After verifying your Windows Anytime Upgrade key it'll show you a window to accept the license terms.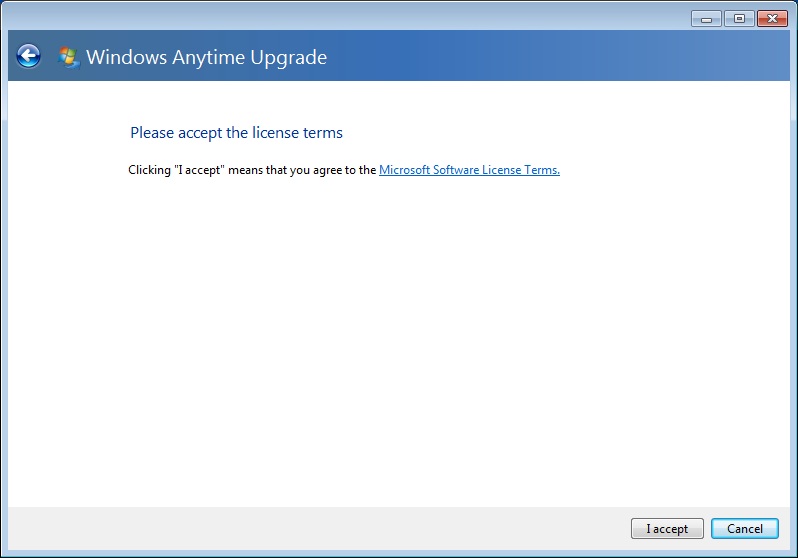 Step 5. Accept license terms by clicking on I accept button to continue Windows 7 Starter Upgrade to the edition of Windows 7 of your choice.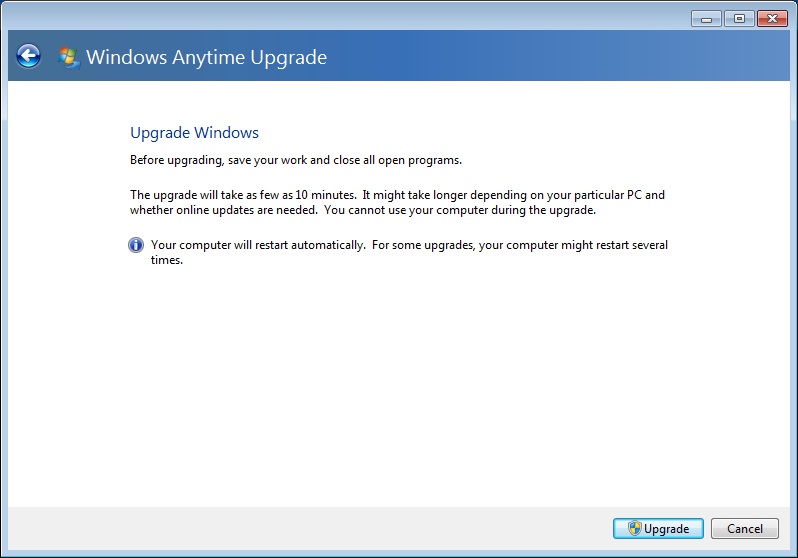 Step 6. Once you're ready click on Upgrade button to start Windows 7 Upgrade.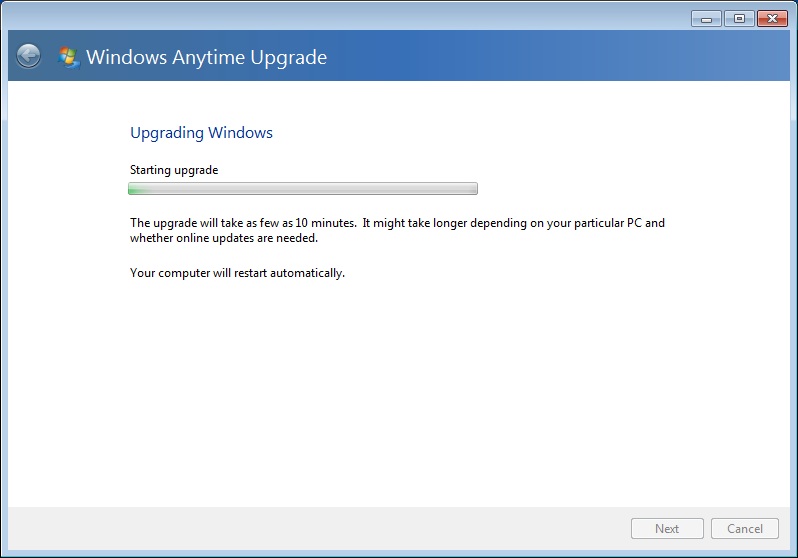 Step 7. At the end, the upgrading windows process starts. The Windows 7 Starter Upgrade will take as few as 10 minutes. It might take longer depending on your netbook configuration and whether online updates are needed.
For some upgrades, your PC might restart several times automatically.
That's all! The upgrade was sucessful and your computer is ready to use.
Return to Top