Tips and Tricks: Windows 7 File Details View
Display File Details in Windows 7
When you create a document or file in Windows 7 and store it in a folder on your Windows 7 computer, lots of information is associated with that file.
However by default the Windows 7 does not show all this information.
To find out all the possible windows 7 file options available to you, we need to open the windows that lists them all.
To do this Right click on Start buttom and select Open Windows Explorer, select the folder in which your file is saved. Select View from the Menu toolbar in Windows Explorer window, and then select Choose details... (as shown in the screenshot below).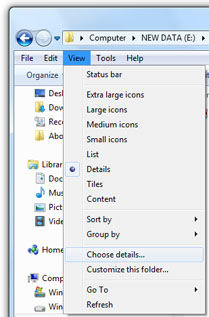 You will see "Choose Details" dialog (as in the screenshot below.)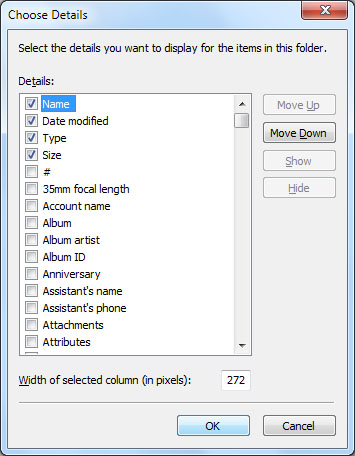 By selecting the Windows 7 file options you require and then clicking the OK button. Your selected file options will then be shown the next time you view the files in the Windows Explorer folder you are working in.
The best "folder view" to be in to fully take advantage of this customisation is the "details view".
Please remember that this does NOT make changes to ALL your folders in your windows 7 computer - just the one you are in at that time!
Return to Top