Microsoft Windows 7 Features
Features of Windows 7 are User-friendly and Utilitarian
The plethora of Windows 7 features make this operating system a pleasure to work with. Windows 7 is undoubtedly one of the best operating systems ever released by Microsoft.
Here are some of the cool Windows 7 features list that make this operating system more awesome than any other Microsoft operating system released till date.
"Jump Lists" option for lightning-fast program or website access
Windows 7 Jump Lists Feature
Windows 7 has a great feature named Jump List. This feature allows you to "pin" any program shortcut or link of any website that you frequently make use of on the taskbar itself. Once you have pinned the shortcut, you have one-click access to that website or program right from the taskbar itself. If you decide that you no longer require the link to that program, you can easily unpin the shortcut from taskbar. It's that simple!
Windows Touch to replace your mouse with your finger
Windows 7 Touch Feature
Windows 7 comes with Windows Touch, a feature that is compatible with most touch-screen monitors available. Thus it allows you to perform most of the tasks you would otherwise perform with a pointing device by simply pressing, tapping or moving your finger on the monitor screen. You can even try your hand at some of the simple games using this feature.
"Play To" that can stream your media files to other devices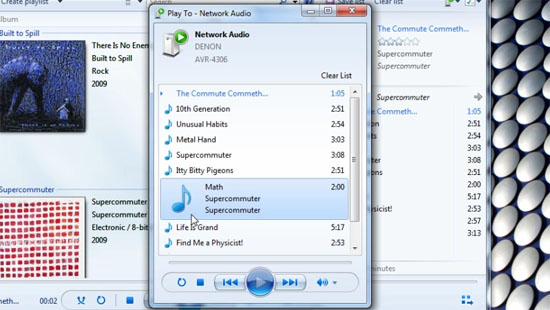 Windows 7 Play To Feature
Play To, an all new feature in Windows 7, allows you to stream media files from your PC to other media devices throughout your home. Whether you are on the porch resting after a hard workday or camping with your kids in the backyard, you are never far from your movie collection. Simply start playing the media on your Windows 7 PC, activate "Play To" option, and point to a media device like a laptop, digital television, or music player in your home.
Firewall in Windows 7
Windows Firewall
Windows Firewall software bundled with Windows 7. Once you activate it, it becomes readily apparent that the software has gone through huge improvements since the firewall was introduced in Windows XP (Service Pack 2 required). Read more about Windows 7 Firewall
Windows 7 HomeGroup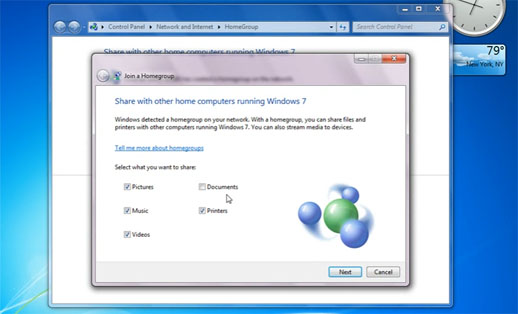 Windows 7 HomeGroup
HomeGroup is a new feature in Windows 7, which allows two or more computers running Windows 7 to share files, printers and stream media on a home network without the hassle of managing individual user accounts and permissions. Other people can't change the files that you share, unless you give them permission to do so. Read more about Windows 7 HomeGroup
Best Windows 7 features out-of-the-box support for 64-bit PCs
Windows 7 supports 64-bit processors straight out of the box. This is great for users who have already purchased PCs with 64-bit processors but are unable to find an excellent quality 64-bit operating system to unleash the maximum power of their powerhouse rigs. Read more about Windows 7 64 Bit here...
Windows XP Mode in Windows 7
Windows XP Mode Feature
Do you rely on a bunch of productivity software to help you manage your business? Are you worried that these software suites will cease to work if you switch to Windows 7? Well, don't worry. Windows 7 features a radical feature called Windows XP Mode that will allow you to run software developed for Windows XP right from your Windows 7 desktop. Read more about Windows 7 XP Mode
These awesome Windows 7 features, along with many other useful ones, make Windows 7 a must-have operating system for PC users. If you have gotten a new PC, make sure you have Windows 7 installed in it. Your PC will run faster and give you more value for money as well.
Return to Top