Windows 7 Ultimate Edition
Designed for people who want it all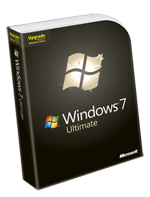 Let's talk Windows 7 Ultimate Upgrade, Installation, Configuration, Troubleshooting, Setup, Features, Softwares and System Hardware Requirements. Problems, Issues, Errors, Tips, Articles, Reviews, How-to, Help and Support.
Windows 7 Ultimate is essentially same as Windows 7 Enterprise edition. The only difference between the two is that the Ultimate edition is available for both corporate and personal use, whereas the Enterprise edition is only usable by corporate organizations. Apart from this detail, all features are the same in both editions.
Features of Windows 7 Ultimate Edition
The noteworthy features of Windows 7 Ultimate edition include the following:
AppLocker to let IT pros control what applications users can run: It provides simple, powerful, rule-based structures for specifying which applications can run that are centrally managed using Group Policy.

BitLocker Drive Encryption (BDE): You can encrypt the contents of any drive in your PC using this tool. The tool encrypts contents and provides security against hackers, viruses and malware. The tool also has an option named BitLocker to Go, using which you can transfer encrypted files and settings to another PC. However, the transfer has to be done by using a USB drive.

BranchCache for faster file access: BranchCache in Windows 7 helps increase the network responsiveness of applications, giving users in remote offices an experience more like working in the head office.

DirectAccess to keep mobile users connected on the go: When your Network Administrator enables DirectAccess, the corporate network's file shares, intranet websites, and line-of-business applications remain accessible wherever you have Internet access—without the need to VPN.

Federated Search: Find information in remote repositories, including SharePoint sites, with a simple user interface.

Multilingual User Interface (MUI): The Ultimate edition includes MUI, by which you can choose your preferred language for the menus and controls. A huge list of choices is available, so you can be sure to find a language that you prefer. All you have to do is download the language pack for free and install it. Your menus and controls will be translated to the language you chose.

Support for Virtual Machines: You can use a PC running Ultimate edition in order to create a virtual machine and join it with virtual machines running on other PCs, also running Windows 7. You can also use Windows XP mode to run older applications.

UNIX application support: The Ultimate edition features a subsystem for running applications originally developed for UNIX. These include applications used for authorizing user accounts, network management tools, etc.
Windows 7 Ultimate Edition: Best of both worlds
Win 7 Ultimate edition gives you the option to either work as a standalone user, or join a network and share files and folders. It also comes equipped with the unrestricted version of Media Center, which means you can play all the latest games and watch movies in HD quality.
If you want the best of both the worlds of user friendliness and a plethora of features, Ultimate edition of Windows 7 is simply the best operating system you can install in your PC.
Windows 7 Home Premium and Windows 7 Professional users will be able to upgrade to Windows 7 Ultimate for a fee using Windows Anytime Upgrade if they wish to do so. Unlike Windows Vista Ultimate, the Win 7 Ultimate edition will NOT include the Windows Ultimate Extras feature or any exclusive features.
System Requirements for Windows 7 Ultimate
Microsoft has published minimum hardware requirements for the retail editions of Windows 7. The specifics are listed in Table bellow.
| | |
| --- | --- |
| Hardware Component | Minimum Windows 7 System Requirement |
| Processor (CPU) | 1-GHz or faster, 32-bit (x86) or 64-bit (x64) processor |
| Memory | 1 GB RAM (32-bit) 2 GB RAM (64-bit) |
| Graphics processor | Support for DirectX 9 graphics with WDDM 1.0 or higher driver |
| Hard Drive | 16 GB available disk space (32-bit) 20 GB available disk space (64-bit) |
Note that Memory (RAM) and Hard Drive space requirements are slightly higher for 64-bit versions of Windows 7.
What do you think about Windows 7 Ultimate?
Do you have any Windows 7 Ultimate experiences, ideas, article, story, opinions, errors, problems and tips which you would like to share? Why not take a few moments and Share it with everyone!
Return to Top