Windows 7 Home Premium Edition
Perfect for Home Entertainment
Let's talk about Windows 7 Home Premium Features, Softwares and System Hardware Requirements. Problems, Issues, Errors, Tips, Articles, Reviews, How-to, Help and Support.
Windows 7 Home Premium is a great operating system for users who love to use their PC for entertainment purposes. Be it watching movies in HD (High Definition) quality or playing the latest PC games in high resolutions, Microsoft Windows7 Home Premium is the perfect choice.
Many features of Windows 7 were deactivated in earlier versions (Windows 7 Starter, Windows 7 Home Basic), many of which are active in this edition. Let us take a look at some of the top of the line features included in this edition of Windows 7.
Maximum Entertainment, Maximum Gaming
The following features make Windows 7 Home Premium perfect for home entertainment:
HomeGroup: New with Windows 7, HomeGroup takes the headache out of sharing files, devices, and printers on a home network. Connect two or more Laptop or Desktop PCs running Windows 7, and HomeGroup makes it easy to automatically start sharing your music, pictures, video, and document libraries oo with others in your home.

Windows 7 HomeGroup

Windows Media Player 12: The latest version of the Windows Media Player is included in Windows 7 Home Premium. Support for a wide range of video and audio file types, as well as provision for HD playback of media files make the Home Premium edition a must have for connoisseurs of movies.

Windows 7 Media Player

Inbuilt support for high end PCI-Express cards: Windows7 Home Premium has built in support for high end PCI-Express graphics cards from all leading manufacturers like NVidia and ATI. As a result, you can play state of the art games released recently at smooth frame rates and high details, provided you have the right kind of hardware configuration to handle it.

DirectX 11 support: DirectX 11 is the latest graphics platform developed by Microsoft. It allows for incredibly realistic lighting and overall graphics in games, making gaming on Home Premium edition quite an experience.
Hassle free access through Windows Media Center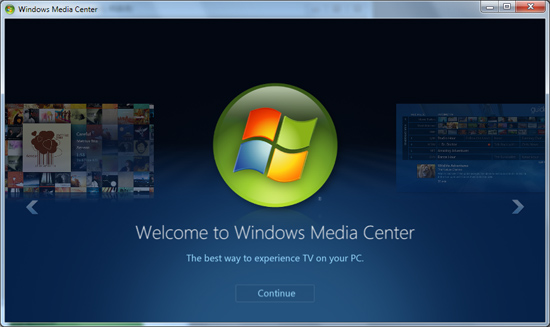 Windows 7 Media Center
Microsoft has included a feature named Windows Media Center in Windows 7 Home Premium edition. The feature brings all of your entertainment shortcuts to one spot for quick, hassle-free access. It includes the option of watching TV directly from your PC through the internet and recording your favorite TV shows in HD format. You can even program the recording time, so that it begins automatically at the time when the show is supposed to start. Windows Media Center allows you to download or watch movies and episodes of TV series via your NetFlix account.
This edition designed to make your PC sleep and resume quicker, also takes full advantage of 64-bit PC hardware and memory.
Besides, if you are a sports enthusiast, you will be able to keep track of your favorite team's performance directly from your desktop, through internet.
System Requirements for Windows 7 Home Premium
Microsoft has published minimum hardware requirements for the retail editions of Windows 7. The specifics are listed in Table bellow.
| | |
| --- | --- |
| Hardware Component | Minimum Windows 7 System Requirement |
| Processor (CPU) | 1-GHz or faster, 32-bit (x86) or 64-bit (x64) processor |
| Memory | 1 GB RAM (32-bit) 2 GB RAM (64-bit) |
| Graphics processor | Support for DirectX 9 graphics with WDDM 1.0 or higher driver |
| Hard Drive | 16 GB available disk space (32-bit) 20 GB available disk space (64-bit) |
Note that Memory (RAM) and Hard Drive space requirements are slightly higher for 64-bit versions of Windows 7.
What do you think about Windows 7 Home Premium?
Do you have any Windows 7 Home Premium Edition experiences, ideas, article, story, opinions, errors, problems and tips which you would like to share? Why not take a few moments and Share it with everyone!
What Other Visitors Have Said
Click below to see contributions from other visitors to this page...

Windows 7 home premium upgrade prices Not rated yet
Question: I would like to know the Microsoft Windows 7 Home premium upgrade prices for both OEM and retail editions. Answer: Win 7 is offered in …
Return to Top