Windows 7 64 Bit
The 64-bit Version of Windows 7

Windows 7 64 bit - Should I install it?
Windows 7 supports most modern 64-bit processors straight out of the box. This is great news for power users, whose computers often flaunt 64-bit processors and oodles of RAM. The 64-bit version of Windows 7 can really unlock the hidden power of 64-bit CPUs.
Office applications open up in seconds, heavy graphical applications like games show great improvement in performance, and the PC seems to respond to commands a lot faster than ever before. Let's find out more about this powerful version of everyone's favorite operating system from Microsoft.
First things first: How do I get Windows 7 64 bit?
If you have purchased Windows 7 Starter edition, then sadly speaking, you have no way of installing Windows 7 64-bit version on your PC. However, if you have purchased Windows 7 Home Basic, Home Premium, Professional, Windows 7 Enterprise, or Windows 7 Ultimate edition, then you already have the 64-bit versions of those operating systems. Both 32-bit and 64-bit versions of these operating systems are shipped together, ensuring that you get complete support for 64-bit hardware straight out of the box.
What would be the benefits of installing Windows 7 64bit?
Obviously, you should expect at least 30% - 40% performance boost from the word go. However, do not expect anything radical, such as double the performance of the 32-bit platform. It does not work that way. There are simply too many factors to take into account if you try to measure the performance boost that should take place after an upgrade from 32-bit to 64-bit.
So, why should I install Windows 7 64-bit Version?
Of course you should install Windows 7 64 bit if you have a 64-bit processor. Not only will it be able to unlock the true performance of your processor, but will also allow you to install more than 4 GB of RAM on your PC. Computers with 64-bit architecture can have up to 8 GB of RAM on Home Basic; 16 GB of RAM on Home Premium; and more than 128 GB on the Professional, Enterprise, and Ultimate editions. A 32-bit PC, on the other hand, is only able to support as much as 4 GB of RAM.
How can I tell if my computer is running a 32-bit or a 64-bit version of Windows 7?
To find out if your computer is running 32-bit or 64-bit Windows 7, do the following:
Open System by clicking the Start, clicking Control Panel, clicking System and Security, and then clicking System.
Under System, you can view the system type.
Or use the following Windows Shortcut key: Windows + Break keys.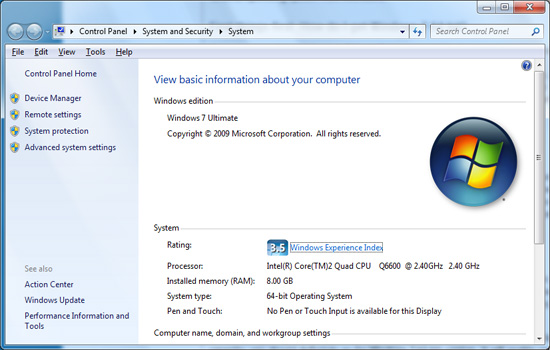 Windows 7 System Panel
To cut a long story short, if you have a powerful rig that you wish to use to its full capacity, you should definitely go for Windows 7 64-bit version. It will enable you to utilize the hidden potential of your 64-bit setup.
What do you think about Windows 7 64 Bit?
Do you have any Windows 7 64 Bit experiences, ideas, article, story, opinions, errors, problems and tips which you would like to share? Why not take a few moments and Share it with everyone!
What Other Visitors Have Said
Click below to see contributions from other visitors to this page...

Ram problems Not rated yet
Question: I have an Intel core 2 quad with 2.5 Ghz and 4 gigabyte ram but only 2.75 is usable, how can I solve this? Answer: Which Operating System …
Return to Top