Windows 7 Firewall
Maximum Security, Minimum Overhead
Let's talk about Windows 7 Firewall Features, Installation, Configuration, Troubleshooting, System Requirements, Tips, How-to solve Problems, Help and Support.
Windows Firewall software bundled with Windows 7. Once you activate it, it becomes readily apparent that the software has gone through huge improvements since the firewall was introduced in Windows XP (Service Pack 2 required).
The firewall in Windows XP can at best be called rudimentary. It allowed you to block incoming traffic based on certain criteria, and that's about it. It did not protect your personal data from being shipped out of your PC in neat little bytes. Windows Vista had an improved version of this firewall, but consumed a lot of resources when active, creating a high overhead on the CPU and slowing down network traffic as well.
Improvements in Windows 7 Firewall
Conversely, Windows Firewall has been optimized from ground up, ensuring excellent performance with minimum system overhead. A plethora of settings allow you to configure the firewall as per your requirements. In fact, you can now have multiple firewall policies running at the same time. This is a huge advantage, and one that was not present in previous versions.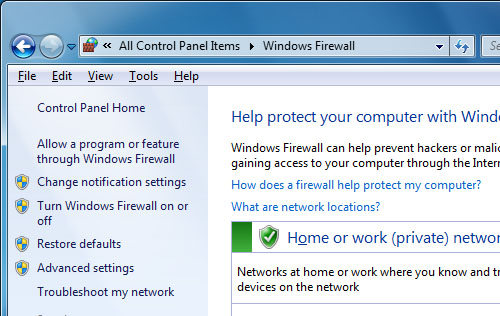 It also filters outbound traffic via the Advanced Security snap-in in the Microsoft Management Console (MMC). The firewall also allows you to select the type of network you are connected to. The options are public network, home network and work network, with the latter two being considered as private networks.
Windows Firewall is good for system administrators
Windows 7 Firewall allows you to keep multiple profiles active at the same time, while keeping policies assigned to each profile active as well. For instance, if you have a profile for public networks, and one for your home network, both can remain active simultaneously if you are connecting to the internet at home.
You can also specify connection security rules from within the GUI itself, which makes it comfortable for administrators who prefer working in a graphical environment. To add to the relief, connection security rules in the firewall also support dynamic encryption, which means that a connection can be encrypted at any given time ensuring maximum security.
All these advantages, along with dozens more make the Win 7 Firewall a very useful software tool for system administrators.
Return to Top